Projects
FortisBC Substation Health Study
| | |
| --- | --- |
| Client: | FortisBC |
| Site Location: | Various Substation in the FortisBC power system |
| Project Description: | Grounding Studies with Measurements at eight Substations |
FortisBC have contractors carry out grounding studies of existing substations from time to time to ensure the grounding continues to provide the required protection for their workers and equipment and the public. Ground-it have carried out these studies at groups of substations over a several years. This 2018 project involved the grounding safety evaluation at eight substations. All sites were visited and grounding measurements carried out. The field measurement data was used to carry out a full grounding study at four of the sites that included computer modelling and fault studies and to update previous grounding studies at the other four.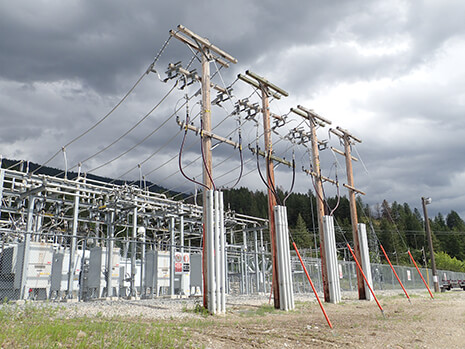 John Hart Generating Station Replacement Project
| | |
| --- | --- |
| Client: | SNC Lavalin |
| Site Location: | Near Campbell River, BC |
| Project Description: | Grounding Study with Measurements |
The old generating station containing six generators, with water supplied by overland wood and steel penstocks, was replaced with a new three-unit underground powerhouse and associated tunnels. The existing 13.8:132 kV substation was upgraded. Ground-it carried out a complete grounding study for the project that included initial measurements of soil resistivity and ground impedance, computer modelling of the grounding of the substation, underground powerhouse and tunnels, fault studies to determine ground potential rise and step and touch potentials and completion validation of step and touch potential measurements. During the project, the medium voltage feeders were modified from a full cable bus design to a partially overhead line system and a number of grounding issues resulting from that, were addressed.